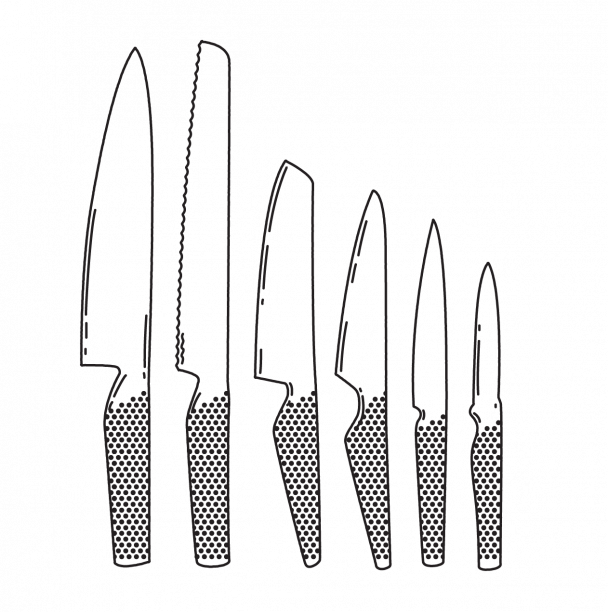 A blade fit for a Samurai
Komin Yamada was tasked in the 1980s by Japanese cutlery manufacturer Yoshida to design a set of all-stainless steel kitchen knives. But at first he wasn't sure how to make something so utilitarian exciting for new customers. Deciding to pique people's curiosity, he incorporated dots on the handles, ensuring that each knife would be irresistible to the touch.
This now-distinctive feature isn't the only thing that makes Global knives some of the world's best-selling kitchen tools. Taking inspiration from the ancient culture of the Samurai – noble warriors whose activities required lethally sharp swords – Yamada's design also ensures each knife is utterly precise and balanced. Crafted from an exclusive type of stainless steel called Cromova 18 and eschewing a typical Western-style 'bevelled' blade for a straight edge, the knives are famously sharp. As a result, they're a firm favourite with professional chefs and amateur cooks alike.
Abel + Imray stepped into the Global knives story a decade ago, when we filed an EU customs watch on behalf of Yoshida. Not only does this kind of legal ringfencing help authorities clamp down on counterfeit productions, it protects the knives' iconic dotted handle design, known and loved the world over.
Yanagi Knife
A specialist sushi knife for slicing fish. Typically having only a single bevel, it creates an especially sharp blade to ensure precision.